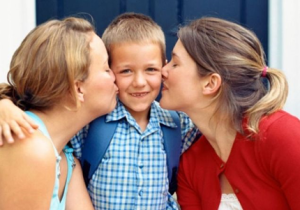 "Better two women a violent father". This, in magazines, The underlying rationale of the judgment of the last 11 January by the Supreme Court on a complex case of foster care. Starring: a child, a father, a mother and her same-sex cohabiting partner. The way the controversy was immediate. A thicket of conflicting opinions that has rekindled the age-old question of adoptions to same-sex couples.
"The judgment – Rose explains Rosnati, Professor of Psychology and the adoption of foster care, member of the University Centre for Studies and Research on the Family (Catholic University of Milan) – confirmed the custody of the child to his mother with whom he lives, regulating the visits of the father, in the past accused of violence against the mother. What emerges is that the court did not consider that the homosexual relationship currently experienced by the mother could be a reason good enough to stop the already established mother-child bond".
The debate has mis-read this sentence shared a possible opening to the adoption by same-sex couples.
But of this you need to make some clarifications.
"Children who go up for adoption are often in a state of neglect, marked by neglect, years spent in school and often have suffered ill-treatment and abuse. The family, and, primarily, the couple who welcomes them, has the task of promoting, as far as possible, recovery from these adverse experiences. Not an easy task – says the psychologist -. Growing up being able to enjoy the presence of a father and a mother allows the child to know what it means to live and be a man and woman, from what, time in order to delineate a strong masculine or feminine identity. Not only, small at the same time be able to experience the relationship between a man and a woman, able to accept and appreciate the difference of the: here is the foundation of human generation. Two parents of the same sex, by definition, can not provide the child with this basic experience, and then he will be burdened with an additional mental task. Towards adopted children then, the company has a duty to provide them with optimum growing conditions, and certainly not to expose them to additional risk factors".
You need to remember, also, that the number of pairs available for adoption is far greater than the number of children who may be adopted (both in Italy and abroad): "Più precisely – continues Dr. Rosnati – in 2011 there have been 8.895 applications for national adoption and 4.948 for international adoption: in the same year 909 children were placed in adoption and national 4022 in international adoption. The court thus has the responsibility to select, tant tra le, the couple most likely to accept and to ensure an environment in which the child can recover a dramatic past".
However, some experts of national reputation, relying on the results of several studies on the topic, argue that living with two parents of the same sex would pose no problem to the development of children: "The research on this topic – adds the expert – offer conflicting results and pose more questions than certainties. How do you know any good researcher, it is difficult to generalize the results from studies that are based on samples meager, conducted on subjects that are often found in a non-random (for example, by activist groups). Also, Another is to note that children who grow up in families omogenitoriali found to be satisfied with their family (In fact, children are very desired and upon which much has been invested), no special problems in the early years and have a successful school, Another is to say that in the long run they will achieve an adequate development from every point of view, also with regard to identity matures". In other words, how they will be when they grow up?
"There is help in a recent survey of Regnerus – Rose explains Rosnati -, published in 2012 su Social Science Research, who analyzed a sample of nearly 3.000 young people and adults (19-39 years) grown in different family types: what emerges is that children raised by same-sex couples, in particular by pairs of lesbian mothers, are more likely to experience behavioral problems, to have higher levels of depression and greater affective instability, as well as a greater propensity towards homosexual relations, the, even a real rejection of any emotional relationship". To this we must then add the question of secrecy about the origins, or the identity of the donor and / or the mother who held the baby for 9 months, for money, often by leveraging a situation of extreme poverty (and what happens to them?). Perhaps this is a choice of civilization? This secret is an additional risk factor, because we know the devastating effect that the secrets have. Perhaps we could learn something just from what has happened in the past in the field of adoptions: what consequences they had to pay a lot of guys who have come to discover, maybe accidentally, who were adopted and which reacted with running away from home, suicidi e quant'altro. How then do these couples to see only their right to have a child and not to tremble – and all of us with their – before the great responsibility that involves growing the generations of tomorrow"?